VORTICE - 16018 AXIAL CENTRIFUGAL ASPIRATOR, MADE IN SELF-EXTINGUISHING VO RESIN

• MATERIAL: SELF-EXTINGUISHING PP THERMOPLASTIC RESIN, RATED V0.
• NOMINAL DIAMETER 125 MM.
• 3 SPEED FAN THROUGH TRIO-CA OPTIONAL CONTROL (COD. 12869), CONSISTING OF:
• AC MOTOR WITH THERMAL OVERLOAD CUTOUT AND SHAFT TURNING IN BALL BEARINGS,
• BACKWARD CURVED IMPELLER.
• OPERATION CONTROLLABLE BY REMOTE SENSORS MONITORING: TEMPERATURE, RELATIVE HUMIDITY, SMOKE AND PRESENCE.
• ZINC-COATED STEEL BRACKETS FOR WALL MOUNTING.
CA 125-VO D 16018
ABSORBED POWER 1ST SPEED (W): 14
FREQUENCY (HZ): 50
INSULATION CLASS: II°
IP: X4
MAX AMBIENT TEMPERATURE FOR CONTINUOUS OPERATION (°C): 50
MAX. ABSORBED CURRENT AT MAX. SPEED (A): 0,22
MAX. ABSORBED CURRENT AT MIN. SPEED (A): 0.14
MAX. ABSORBED POWER AT MAX SPEED (W): 52
NOMINAL DIAMETER (MM): 125
Ø DISCHARGE HOLE (MM): 122
VOLTAGE (V): 220-240
WEIGHT (KG): 2,3
DELIVERY 1ST SPEED (L/S): 29
DELIVERY 1ST SPEED (M³/H): 107
MAX DELIVERY AT MAX SPEED (L/S): 83
MAX DELIVERY AT MAX SPEED (M³/H): 300
PRESSURE - 1ST SPEED (MMH20): 19
PRESSURE - 1ST SPEED (PA): 195
PRESSURE MAX - MAX SPEED (MMH20): 34.7
PRESSURE MAX - MAX SPEED (PA): 340
RPM MAX: 2400
SOUND PRESSURE LEVEL LP [DB (A)] 3M - MAX SPEED: 56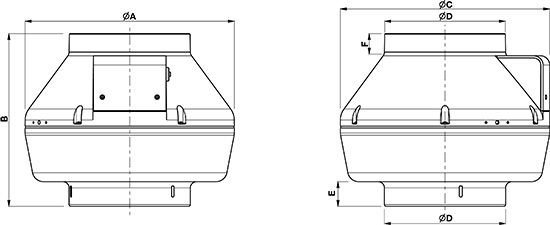 SIZE A (MM): 250
SIZE B (MM): 250
SIZE C (MM): 250
SIZE D (MM): 122
SIZE E (MM): 30
SIZE F (MM): 30